On Wednesday of this past week my husband tweeted at me on Twitter about an event I had never heard of before:
The Portland Pie Off
. His tweet was pretty darned specific that I should enter. Like ASAP. So, I looked into it. I seriously considered it. Wasn't sure about it, though, because I only had a few days to prepare - the Pie Off was set for today, Sunday, August 16th. That's not much time to make a good decision! I talked with some friends about it to get some ideas. I talked with my husband about it and got his thoughts on it. Finally, I decided to go ahead and register online for my famous Buttermilk Chess Pie. Well, it's famous within
my
family anyway.
I was first introduced to buttermilk pie when I was about 12 years old. My uncle's then wife, Kim, was from Texas and this was her pie. She brought it to a family gathering at my grandparent's house and my older sister, Teri, was absolutely adamant that I should try it. Well, like any 12yo girl with discerning tastes, I was extremely hesitant. I mean, who wouldn't be with an ingredient like *shudder*
buttermilk
in it? In fact, it took
a lot
of coaxing from Teri to convince me to finally try it. Oh, but when I did I instantly fell in love! To this day, buttermilk pie remains my favorite pie of all time.
When I was 18 and on my own I went in search of the perfect buttermilk pie recipe. Over the past 14 years I have played with the most basic of buttermilk recipes and have made it my own. This is such an amazing pie that my entire family loves it and asks for it pretty much every year during the holidays. And I don't just mean my immediate family (you know, the husband and kids), I mean the extended family as well. Mom, dad, siblings, aunts, uncles and cousins. They all love my pie. For quite a few years there I was known as The Pie Lady on both sides of my family (and then I had a couple more kids...less time for baking these days). Of course, I make more than just the famous buttermilk pie. But it is definitely my signature pie.
We do love it.
Of course, my husband being the loving and doting husband that he is (at least where his stomach is concerned
haha
) had insisted that the buttermilk was the way to go. So, yet again, I tweaked it just a little bit more. Doing my best to make it
my own
. This pie belongs to me and no one else. I also tweaked my pie crust recipe (which once started off as one from my Great Grandmother Effie Dilley) to make it
just that much better
. No, it wasn't just better. It was
perfect
according to judge Byron Beck of the blog
Byron Beck's Window
.
This afternoon at 1pm, I showed up at Peninsula Park in North Portland with my pie in hand and laid myself out on the table to be judged by one and all. The Portland Pie Off was my very first ever cooking/baking competition. For over an hour and a half we waited on the sidelines, watching the judging. Waiting. I managed to get a few shots of the judges obviously enjoying my special entry even though they didn't want any of the competitors milling about during the judging.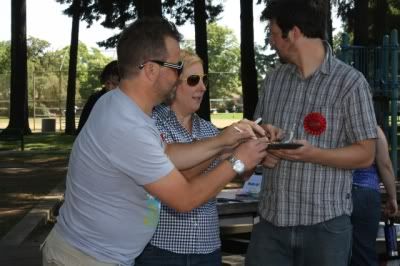 The kids played. We had a picnic lunch - my special home made egg salad sandwiches. We tried to keep ourselves busy taking pictures of the kids playing. Everyone enjoyed the merry go round quite a bit. Sometimes I worry that my 5 year old son has no fear ...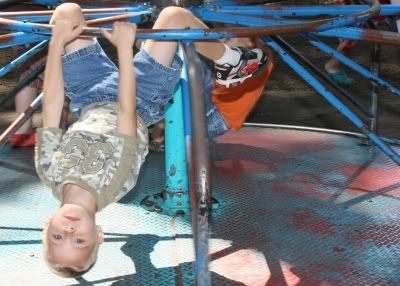 Finally, it was time to reveal the winners. All the competitors were called back over to the judging area and were asked to move in nice and close so that all could hear the announcements. I waited by my pie with bated breath as they read off the winners for the various categories. When the announcement was made for the winner of the Best Custard Pie I was shocked. I was excited beyond belief and boy, oh boy, was I PROUD! Can I just say how frigging difficult it was to keep from crying? I know, I'm a complete sap. But being that this was my
first ever
cooking or baking competition, I think it's to be expected, right?!?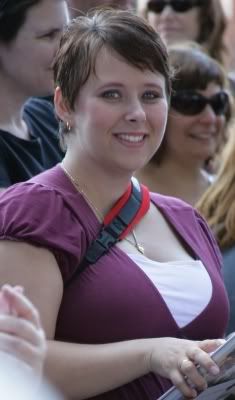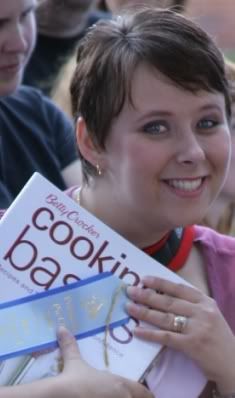 Along with my Blue Ribbon for The Best Custard Pie, I also received a
Betty Crocker Cooking Basics
cookbook which I plan to share with my 11 year old daughter as I teach her how to cook and bake in the same way my mother did for me.
Once the revealing of winners was complete, all who were present were invited to dig in and enjoy all of the pie entries. My pie went
FAST
. No, it was faster than fast. It flew off that table! Lucky me - or maybe it was lucky for everyone else? - I had a 2nd pie on hand to give others a chance to taste my truly divine creation.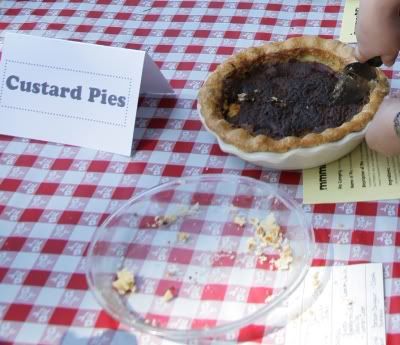 After today one thing is for sure (aside from the fact that I have a winning pie recipe). I absolutely will be entering more cooking contests. Baking, especially, is a passion of mine and has been for many years. Since we moved back in June I am finding that I have to learn how to bake all over again. But, having a convection oven does that. I certainly am enjoying the lovely convection oven ... and I shall continue to share my baking spoils with the world.

Bon Appétit.